How Belfast is Embracing the Evolution of Office Space
---
Ann Trueman, general manager of StepSpace, shares her knowledge of the evolution of the global office sector and explains why now is the right time for Belfast to 'step up'.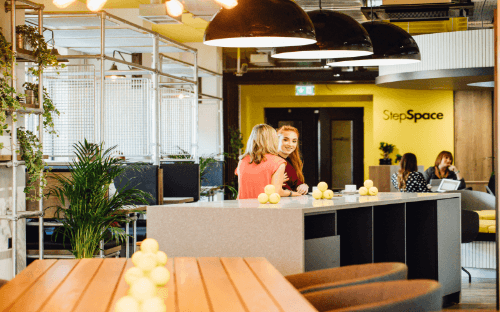 In the last five years co-working and the many alternative versions of it have grown in popularity, surpassing the expectations of those who had originally realised that it was a sustainable trend which would actively disrupt the office market and not a flash in the pan idea.
Major global cities have seen take-up increasing at an annual rate of 20 percent and research from Cushman and Wakefield released earlier this year showed that flexible workspace provider WeWork is now the largest corporate office occupier in London.
Co-working offices around the world
The popularity of this concept has led to an evolution of what it actually means to co-work and around the world new models are being tested. Each one strives to underpin its offering with the same principles of collaboration, creativity and shared work ethic.
The Wing, a network of co-working and community spaces designed for women, originated in New York and has now set up in Washington and San Francisco, with thousands of would-be members queuing to take the next available places.
Its success lies in the uniquely designed spaces which have been created with women's needs in mind including shower and beauty rooms, libraries, perks and freebies including happy hours and movie screenings. They have also developed a calendar of events which attracts world-class speakers and everything is designed to encourage the community to lead their best lives while also attaining professional success.
In the United Arab Emirates a scheme called WitWork launched earlier this year, again appealing to a shift in working habits which demands mobility, productivity and change. WitWork offers freelance professionals access to beautifully designed "dormant spaces" across Dubai. These are restaurants and pubs in key business districts which typically lie empty during the week but now attract people from all over the city to plug in and switch on. They simply provide tea, coffee and water, an excellent wi-fi connection and a collaborative working atmosphere.
Across the pond in London a freelance legal consultant who grew tired of working alone but couldn't afford the fees of a co-working space has developed her own network called Kitchin Table. This encourages people to relate, collaborate and create by hosting and attending female only co-working groups in their own homes. Users can select based on location, skill and industry so that they can find someone or a group of like-minded people to bounce ideas off.
Flexible office space in Belfast
Here in Belfast we are no strangers to co-working spaces with Ormeau Baths, Blick and the Loft, to name but a few, all catering to a growing local demand from businesses with different needs. While the trends continue to evolve around the world in various different ways, we are also now seeing a shift in what is available locally too.
This month Centre House on Belfast's Chichester Street was revealed as the first of a number of locations to house StepSpace, which we believe is an exciting, first-of-its-kind office space concept aimed at fast scaling tech companies who are ready to move on from their start-up co-working locations.
With a focus on flexibility and scalability, it has been created to serve companies on a rapid growth trajectory. StepSpace is the brainchild of Belfast's Causeway Asset Management, and forms part of their Future-Fit concept; a user first approach to office development that's already being rolled out across the Causeway portfolio and as part of the current redevelopment of 56,000 sq ft at Chichester House in the centre of Belfast. The growth of good co-working spaces means tenant/member expectations have risen, and that means high quality space is now expected.
StepSpace breaks the mould in Belfast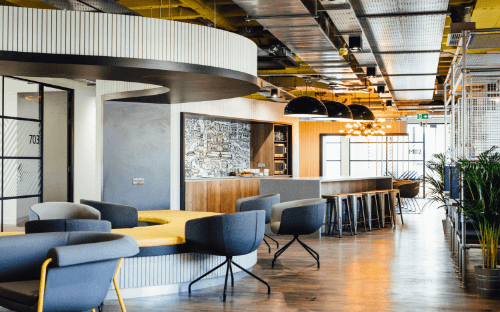 The collaborative core at the heart of the venture gives our members all the benefits of a co-working space, combined with the privacy requirements of a scaling business. Add to that, the fact that there's no long lease, and that we provide a range of operational and business support, StepSpace is unlike anything that Belfast has seen in the office market to date.
It is our plan to work in collaboration with the ecosystem of co-working locations already in Northern Ireland. We know the demand is there and before we launched we had already secured membership for 50 percent of our space.
Freelancers and more established start-ups around the world have an appetite for a change in their workspace and working habits. It is up to us as service providers to deliver the right concepts at the right time and to stay ahead of the fast-moving shift in what is expected of a successful co-working space.
Find out more about the unique services StepSpace has to offer growing companies.
This article was first featured in the Belfast Telegraph.